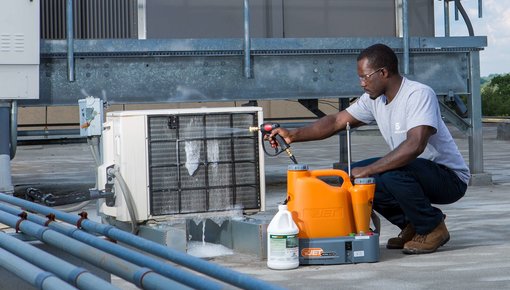 Complete Packages
Here you can find all complete airconditioning cleaning packages. Easy to find and well-ordered. Simply choose the package that suits your activities best. Now with exclusive kit discounts!
Read more
E-mail us!
Call us!
The advantages of product packages.
To keep it easy and well-arranged for new Speedclean visitors and interested customers, we have created a couple of complete cleaning packages, which can be found above.
These are complete airconditioning cleaning sets that contain everything you need during a cleaning job of your airconditioning system. For example, do you mainly clean wall-mounted split units in offices, homes, etc? Then a wall model cleaning package is a good choice.
The packages consist of various products, but the CJ-125 Air Conditioner Cleaner is always included in the kit. This is a (battery powered) low-pressure pump. This allows you to effectively clean the air conditioning and also effectively remove pollution such as mold and viruses.
Furthermore, there is a collection bag, depending on which system you are going to clean.
Of course there is also a handy accessory kit, which contains the best tools.
These tools not only make cleaning more effective but also easier.
Finally, there is also a cleaning agent. This cleans and degreases the air conditioning system. This way you ensure that the unit is not only clean, but will also perform optimally.
For more information about Speedclean, we recommend reading this blog.