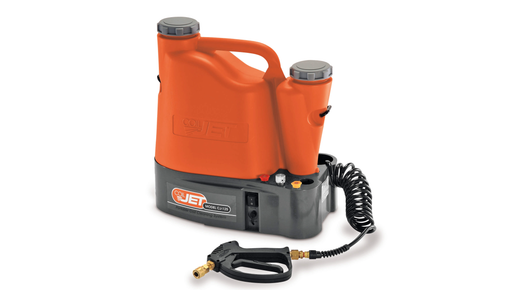 Cleaning Systems
Speedclean cleaning systems combine low pressure water with cleaning agent to effectively and correctly rinse the coils of AC systems. Available as a battery or mains version.
Read more
E-mail us!
Call us!
Low pressure cleaning of split air conditioning systems and heat pumps 
Speedclean cleaning systems have been specially developed to clean split air conditioning systems (both indoor and outdoor units) and heat pumps correctly and effectively. Both indoor and outdoor systems get dirty over time. This has negative consequences for both energy consumption and indoor air quality.
In this blog ''why speedclean'' you can read more about the advantages of Speedclean and why it is crucial that you clean your systems at low pressure.
Different systems
Speedclean currently offers 2 types of devices; the CJ-125 and the CJ-200E. Both units are low-pressure cleaning systems with both a water and cleaning agent tank. The difference is that the CJ-125 has a battery and the CJ-200E does not. This makes it possible to work anywhere with the CJ-125. However, the CJ-200E provides (slightly) more pressure and flow, because it is supplied with a constant power source.
Which system is for me?
The CJ-125 CoilJet is the most commonly sold system and end customer favorite. This unit provides enough pressure to effectively clean both indoor and outdoor units. For cleaning indoor units, the CJ-125 is almost always recommended. If you mainly clean outside units and heat pumps and there is always a power supply, a CJ-200E may be a more logical choice. This depends entirely on your cleaning activities and on which activities you perform the most.
Advice and questions
If you need more advice about Speedclean's cleaning systems, our experts will be happy to help you. Contact us via the customer service page, or start a chat at the bottom right of your screen.